The expert instructors at FitWise are leaders in their field and teach from a deep place of knowing and compassion!
A key factor to your success is in your instructors.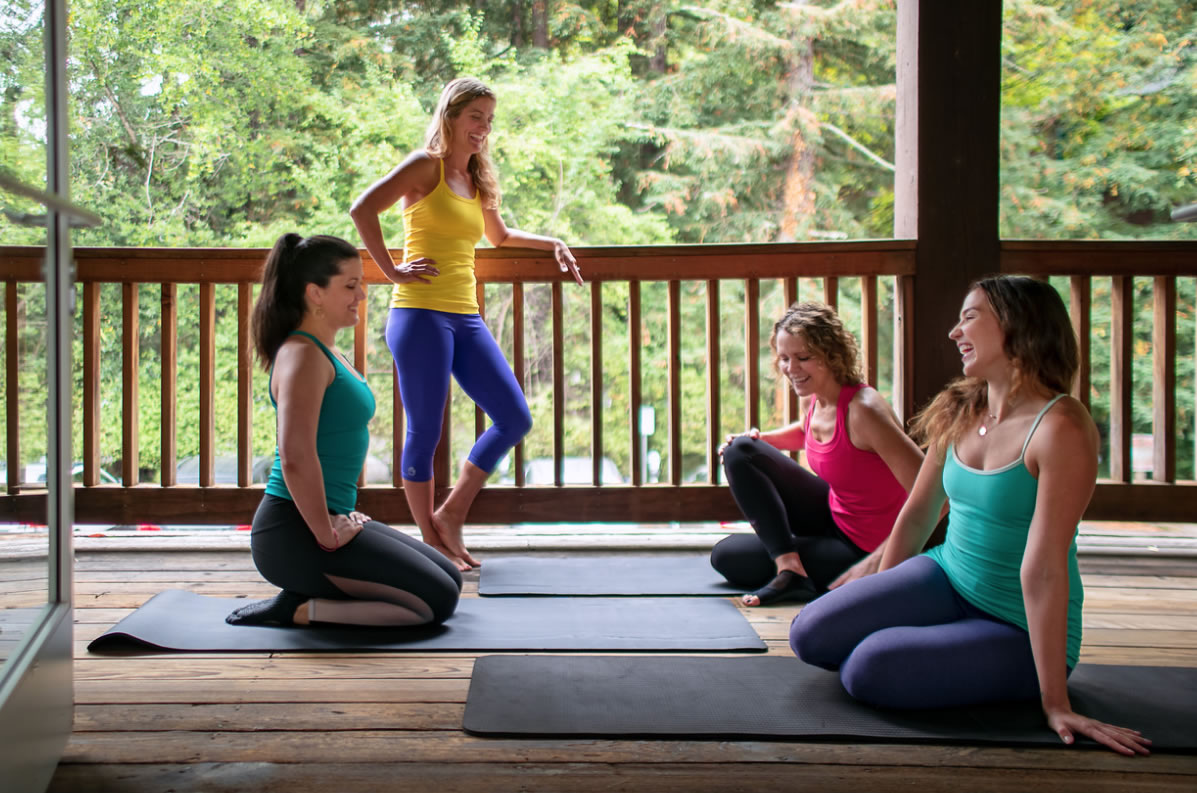 WE ARE A COMMUNITY
We are a small, female owned and operated small business. Unlike chain studios and corporate health clubs, we have established roots in our community and strive to create a positive impact. We believe that Pilates is more than just another exercise.  It is a modality of wellness  that creates positive and lasting change that keep our clients coming back.
Ronda
PMA-CPT | MOVEMENT THERAPIST | OWNER / DIRECTOR, FITWISE PILATES
CERTIFIED GYROTONIC® METHOD INSTRUCTOR
Ronda, owner and director of FitWise Pilates and Wellness, has worked as a movement therapist, wellness practitioner, Master Pilates Instructor, Pilates Personal Trainer, group exercise leader, and exclusive specialty chef for private citizens and celebrities alike throughout the world for over 20 years. Ronda did her initial Pilates training in Brazil and through Polestar Pilates Education. Ronda is certified through Pilates Method Alliance. She has worked/studied with Elizabeth Larkam since 2005 as well as several other prolific educators including Jean Claude West. Ronda continues to attend advanced workshops, courses and master level classes. During her career as the Body, Mind and Spirit Chef, she instructed workshops and clients on weight management, movement medicine, energy optimization, personal fitness, wellness and other daily life concerns through an easy approach to nutrition, functional movement and sustainable lifestyle choices. Ronda's Movement repertoire is vast and innovative. Her clientele range from professional athletes to acute rehabilitation and everything in between. Dance and Movement Medicine are her areas of expertise. Movement and healing are truly her second nature. Ronda has traveled extensively throughout the West Indies, the South Pacific, as well as South, Central, and North America, researching medicinal and native foods, movement therapies and modalities that formed the basis of many of her flourishing practices at FitWise Pilates and Wellness. Her own desire for optimal fitness and well-being led her to create a style of nutritious haute cuisine for specialty diets and natural living in which currently she teaches and leads in wellness groups. As the owner and director of FitWise Pilates and Wellness in Mill Valley and formerly El Cerrito for 12 years, Ronda teaches Pilates, functional fitness, Fascia Fitness, brain fitness and movement therapies to heal, rehabilitate and strengthen both body and soul. We also offer the Gyrotonic method, and our goal is to provide you with a range of wellness services geared at enhancing your total mind and body health.
Lori
CERTIFIED PILATES INSTRUCTOR
Lori has enjoyed teaching Pilates in group class, private and semi-private settings in the SF Bay Area for over 5 years. With a degree from the University of Connecticut in Speech-Language Pathology, Lori learned one of the core principles of Pilates: the power of breath and how to activate the core muscles for proper breathing techniques. However, it was not until 2005 that she was introduced to Pilates when a herniated disc injury halted her active lifestyle. Pilates aided in not only her successful recovery but also allowed her to identify the imbalances in other areas of her body. She then decided to immerse herself in Pilates' highly effective conditioning practice and share its powerful mind and body transformation possibilities with others by becoming a fully certified Pilates Instructor through Pilates Sports Center (PSC). In addition to the herniated disc injury, she has also benefited from using Pilates to recover from shoulder surgery, a complete elbow dislocation and a broken foot. Knowing first hand how a body in pain can affect every part of one's life, she uses that awareness to help people experience the benefits that come from having the balanced and strong body that Pilates can offer even with an injury. Lori has continues to involve herself in the ongoing process of education workshops and is also currently working on her Certification in Neurokinetic Therapy (NKT). Whether you are taking Pilates for a hard core workout, are pre/post natal, are recovering from an injury/surgery or just seeking a healthier and more balanced life, Lori's passion is to help you achieve your goal!
Elizabeth
BALANCED BODY MASTER TRAINER & MENTOR | PILATES METHOD ALLIANCE NCPT | FELDENKRAIS® – GYROTONIC® – GYROKINESIS®
Elizabeth Larkam is a pioneer of the Pilates Method Alliance® initiative Heroes in Motion®. She was awarded the Medal of the Danish Society of Military Medicine in recognition of her efforts to improve the rehabilitation of wounded soldiers. As a Dancemedicine Pilates Specialist at Saint Francis Memorial Hospital, 1985-2000, Elizabeth developed Pilates programs for orthopedic, spine and chronic pain diagnoses. As Director of Pilates & Beyond for Western Athletic Clubs, she helped create the internationally acclaimed Mind & Body Center. Elizabeth authored the book Fascia in Motion: Fascia-focused movement for Pilates (Handspring, September 2017) and the Pilates chapter for the book Fascia in Sport and Movement (Handspring, 2015, second edition 2020). She is co-editor of the book in preparation, Pilates Applications for Health Conditions: Case Reports and Perspectives (Handspring, 2021). Elizabeth is a Feldenkrais® practitioner and a Gyrotonic® and Gyrokinesis® instructor qualified in specialized equipment. She has 48 programs on Pilates Anytime and eight on fusionpilatesedu.com. She is a Balanced Body Master Instructor and Mentor. Elizabeth has participated in eight dissection courses taught by master dissectors Carla Stecco, Gill Hedley and Todd Garcia. She taught the movement component of dissection courses hosted by Tom Myers and by Balanced Body Pilates. Elizabeth is a participant in the Fascial Net Plastination Project, sponsored by the Fascia Research Society at Guben Plastinarium. She hosts the monthly webinar series 'Moved to Learn!' produced by Handspring Publishing for movement educators and manual therapists. Elizabeth is a guest teacher on Shifting Paradigms, a biotensegrity forum.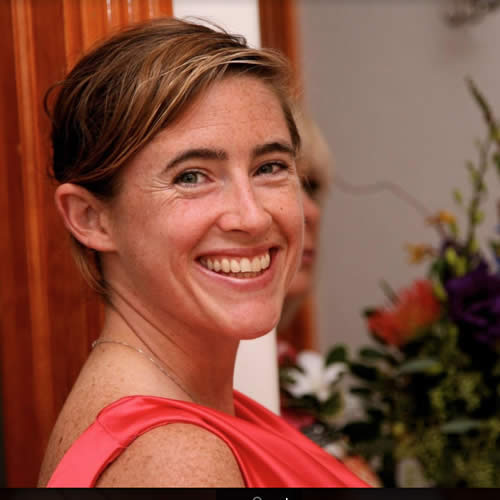 Alison
CERTIFIED PILATES INSTRUCTOR | CERTIFIED YOGA INSTRUCTOR
Alison is a certified Pilates and Yoga instructor with over fourteen years of teaching experience. She began her movement studies dancing and practicing yoga at the age of three with her mother who taught creative movement. She received her BA in History at Brown University where she was also awarded the Weston Fine Arts Award in Dance. After graduating, she moved to New York City and studied and danced with many masters of the craft. She went on to complete her Pilates certification at BodyTonic Gymnasium in Brooklyn. In 2009, she completed her Master's Degree in Somatic Psychology at the California Institute of Integral Studies in San Francisco. She additionally holds two yoga teacher certifications: one through Ana Forrest and the other through Laughing Lotus SF. Throughout this lifetime of movement studies, she has worked with many different populations including those working with rehabilitation issues, expectant and new mothers, the elderly, athletes, and children dealing with developmental issues. Since the birth of her son, she loves to help expectant and new mothers navigate the pre and post-natal process. She continues to be fascinated with questions of embodiment and strives through her work to inspire people to have richer experiences of their own aliveness. Alison is thrilled to work with the FitWise community and in an environment that fosters intelligent movement.
Joanna
CERTIFIED PILATES INSTRUCTOR
Joanna began studying Pilates as a dancer seeking rehabilitation for her lower back in 2003. Joanna's interest in how Pilates healed her pain and changed her body led her to become a comprehensively certified instructor through Balanced Body University.
Through her experience and love for the method, she brings a deep sensitivity to her teaching. "I find joy in helping my clients learn, understand and grow in their own practice and am passionate about educating them about the strength and power of their own bodies".
Joanna started with FitWise in the original studio in El Cerrito with Ronda and Stephanie. In the studio, she works with clients of all ages and fitness backgrounds ranging from prenatal and postnatal fitness, acute rehabilitation and Pilates for athletic performance. As an AFAA certified fitness instructor at the UC Berkeley Recreational Sports Facility, She has worked as a core trainer for the Cal Triathlon Team and the Pilates trainer for Cal Women's Swimming from 2010-2015. Her work with these teams has contributed greatly to her interest and experience in working with athletes.
Joanna's classes quickly fill up, don't wait to join her.
Marianne
CERTIFIED PILATES INSTRUCTOR
Marianne hails from Dallas, TX where she has been teaching Pilates and personal training since 2013. After completing her comprehensive teacher training through Power Pilates, Marianne went on to work with professional athletes, chronic injuries, and clients with neurodegenerative diseases through premier fitness clubs, private homes, and assisted living facilities.
Prior to her full-time Pilates career, Marianne graduated from the University of Texas at Dallas and went on to work in the nonprofit sector as a fundraiser and then as an assistant at a tech company. Seeking a way to bring more movement and creativity into her life, she embarked on a journey as a performing cirque artist through booking agencies in Dallas, specializing in contortion, aerial, and partner acrobatics. She credits Pilates for helping her recover expeditiously from both shows and multiple injuries.
Marianne believes in the power and adaptability of Pilates to fit anyone – no matter your fitness level or prior experience, there is a Pilates session that is right for you! She is excited to teach in the Bay area and to assist FitWise clients with meeting their movement and wellness goals in collaboration with the rest of the studio.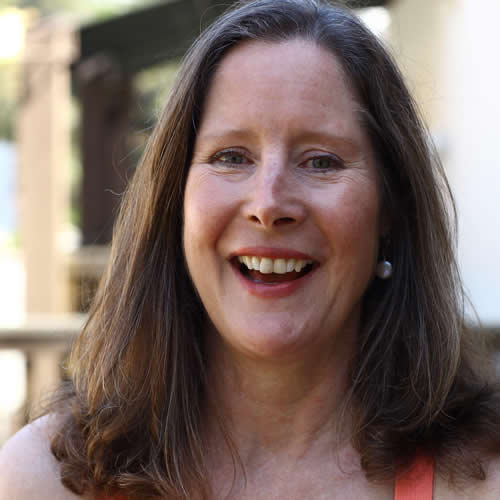 Jean
CERTIFIED PILATES INSTRUCTOR, PMA-CPT, JD
Jean was born in Wisconsin and was a successful equestrian for over 15 years. She also enjoyed water skiing, cycling, racquetball and group exercise. She received a B.A. From Marquette University and relocated to California to attend law school at Pepperdine University, graduating in 1990. She began practicing Pilates in 2002 to counter the stress of her work as an attorney and to balance out her body from the rigors placed on it by her love for mountain biking. Immediately realizing the profound difference Pilates made in her life and body she decided to leave the practice of law. Jean did her initial comprehensive Pilates training with Elizabeth Larkam in 2004 -2005 and was certified by the Pilates Method Alliance. She followed that with a second training at Integrated Teacher Training led by Madeleine Black and Jean Sullivan. She was featured as a Pilates Success story in the October 2006 issue of Pilatestyle magazine. Since that time she has continued to expand her movement knowledge by taking in depth workshops with industry leaders such as Karen Clippinger PT, Christine Romani Ruby PT, Jean-Claude West, Thomas Myers, Tom McCook, Eric Franklin, and Nora St. John. In addition to overall health and wellness her areas of focus are scoliosis, joint replacement, movement to alleviate back pain, and deep pelvic floor cueing. Her philosophy is move well, move often and have fun!
Carlo
CERTIFIED PILATES INSTRUCTOR
Carlo has always been a fitness and wellness enthusiast. As a competitive athlete, he was first introduced to Pilates in 2014 when he began at the original FitWise studio.
Carlo became a part of the FitWise Pilates Mill Valley administrative staff and the rigorous comprehensive Pilates teacher training program under the direction of Master Trainer Ronda Priestner. He enjoys working with clients to unlock their own mind-body connection and utilize the benefits of Pilates in all aspects of their life.Carlo has experience working with clients of varying ages and abilities; from competitive athletes looking to increase their strength, balance and flexibility to post-natal women reincorporating physical exercise into their lives. He also has worked with clients post-surgery, those with limitations due to arthritis or injury, complete knee and hip replacements, torn rotator cuff and impingements, stenosis, spondy, SI dysfunction, Natal and herniated/bulging discs to name a few.
Carlo's goal is to customize the exercises to meet the specific needs of the client, so you feel challenged and see progress in a safe and positive environment.
Stephanie
CERTIFIED PILATES INSTRUCTOR | CERTIFIED YOGA INSTRUCTOR
Stephanie was introduced to Pilates in 1997 through a dance program as a means of dance conditioning and injury prevention. She then went on to dance professionally with The Oakland Ballet and State Street Ballet where she continued to be an avid Pilates student. Stephanie experienced so many profound benefits from Pilates that she knew she would eventually make it her career. After relocating to Los Angeles, Stephanie received her certification through Body Arts and Science (BASI) in 2004. She started teaching full time at studios all over Los Angeles. Stephanie has been fortunate enough to work alongside physical therapists and leaders in dance medicine. She has worked with a large number of clients ranging from fitness enthusiasts and athletes to people suffering from various injuries and medical conditions. Stephanie continues to attend master level workshops and courses in the movement sector. Stephanie also discovered Anusara yoga and in 2009 she successfully completed an Anusara yoga certification. Stephanie is thrilled to be back in the Bay area at FitWise Pilates . She draws on her many influences to create an effective, diverse, detailed, and very challenging session. She is able to adapt the Pilates exercises to meet the many different needs of her clients including, athletic training, pregnancy, back issues, weight loss, fitness, and much more!
Jessica
CERTIFIED PILATES INSTRUCTOR
Jessica grew up near Philadelphia, Pennsylvania, in a sporty family. Her favorite activities were dance and horse-back-riding, and she divided her time between the local ballet studio and the barn, riding her horses in show jumping competitions. Jessica attended college and law school in New York City, working for many years as an attorney in government. When not working, Jessica took every opportunity to go running or attend dance classes. She competed in local road-running races, working on distances between a 2-mile sprint and the marathon. In 2010, Jessica began taking Pilates mat and reformer classes to combat increasing hip pain. She immediately loved the lightness that Pilates brought to her body, reminding her of her love of ballet, and she's been passionate about Pilates ever since! After relocating to California in 2015, Jessica made a career change to physical fitness training, first becoming a certified personal trainer (NASM CPT, 2017) and working for large gyms as a trainer and group exercise instructor. Jessica then obtained an instructor certification through BODYROK Pilates of San Francisco. Wanting to delve into Pilates teaching further, Jessica completed her teacher trainings in Stott Pilates Intensive Mat-Plus (Blue Sparrow) and Balanced Body Pilates Reformer (EHS). She has also taken teacher trainings in Barre (Ellie Herman), TRX and specialty classes unique to Equinox gyms. As a Pilates teacher, Jessica loves creative, challenging workouts incorporating Pilates exercises and functional strength. She has a special love for balance and body alignment. Jessica also respects limitations and enjoys helping people who suffer from low back pain and hip mobility issues. Jessica is thrilled to be part of the FitWise team and is excited to meet you!
Beverly
CERTIFIED PILATES INSTRUCTOR
Beverly is a California native, born and raised in the Bay Area, and has been a Pilates practitioner since 2013. Trained in New York City, she is a third generation Pilates instructor, mentored by Sari Mejia Santo, daughter of Romana Kryzanowska, an original protégé of Joseph Pilates. Beverly is certified through Romana's Pilates International and earned a B.A. in Education from San Francisco State University.
Her connection to Pilates stems from a lower back and rotator cuff injury. After physical therapy, she discovered Pilates and its rehabilitative effects on her recovery. The benefits were immediate and outstanding – it left her stronger and healthier than her pre-injured state. For Beverly, Pilates was life-changing! Understanding this, she applies the method compassionately and authentically to each client. She's worked with athletes, dancers, golfers, surfers, snowboarders, bicyclists, including clients recovering from neck, shoulder, hip, knee, and ankle injuries and who suffer from chronic pain, post surgery, arthritis, scoliosis, kyphosis, chronic allergies, and tennis elbow to name a few.
Beverly enjoys offering upbeat group classes as well as and private or semi-private sessions. Using the apparatus to build alignment, posture, a strong core, suppleness, and a toned body, she customizes each session for her clients' specific needs. She honors each client's current abilities while skillfully meeting and exceeding individual goals. Her unique approach will facilitate movement to help change your body and realize your wellness goals.
In addition, Beverly practices a holistic lifestyle connecting the mind, body and spirit through healthy eating, meditation, running, soccer, surfing, hiking and swimming. You may also find her in the sunshine, by the ocean, or in the redwoods enjoying nature.
Franciane
CERTIFIED PILATES INSTRUCTOR | PHYSICAL THERAPIST
Franciane graduated with her Masters in Physical Therapy in 2008. She continued her education at the Regional University of Blumenau( Brazil) by specializing in Orthopedic PT as well as Trauma and Sport Physiotherapy. In 2009, Franciane was introduced to The Pilates Method and completed her certification. She began to integrate The Pilates Method into her Physical Therapy work that benefited her clients success dramatically. Franciane became the pioneer of The Pilates Method in her southern Brazil city. She values how The Pilates Method is able to be used as both a preventative practice, as well as a rehabilitation program for orthopedic and neurological injuries in patients of all ages. Franciane went on to specialize in Pilates for Pre & Post Partum, Advanced Pilates, and Advanced Pilates in Neurology. She has participated in both national and international workshops and congresses. In 2017 Franciane completed a Fellowship in Canada where she was immersed in Pilates for Groups, Pilates for Pregnancy, Pilates for Athletes and Training, and Therapeutic Pilates. Franciane also has attained certifications in Myofascial Release, Dry Needling, Cupping, Kinesio Taping, and Manual Lymphatic Drainage.Additionally in 2018 Francaine completed a holistic training at Access Bars. Franciane has dedicated her time to learning and exploring ways she can gain further knowledge to help her clients with full body wellness.
Dannielle
CERTIFIED PILATES INSTRUCTOR | CERTIFIED YOGA INSTRUCTOR
CERTIFIED GYROTONIC® METHOD INSTRUCTOR
CERTIFIED GYROKENISIS® METHOD INSTRUCTOR
Dannielle has been teaching creative and functional movement modalities for over 20 years. She trained through Polestar Pilates Education and is a Pilates Method Alliance certified Pilates instructor, certified GYROTONIC® and GYROKINESIS instructor, and an Inbody Academy trained Yoga instructor. She has taught at various movement studios in California, Oregon, Utah, and Indiana, and had the good-fortune of working as an assistant to Elizabeth Larkam.she was a Balanced Body University faculty member and master trainer. Dannielle has worked in physical therapy clinics and high end sports clubs. She has worked with professional athletes and those in acute rehab( and everything in between). Dannielle progresses her clients with her deep understanding of anatomical mechanics and movement. As an ongoing commitment to instructor training and high standards of movement education, she is currently an educator for Polestar Pilates Education. Dannielle is committed to the art and science of intelligent movement and to the health and well being of her students. Her primary aim is to help people feel comfortable in their bodies and to feel good about themselves and to deliver them to their most optimal levels of wellness and fitness.
Olivia
CERTIFIED PILATES INSTRUCTOR
A fifteen year resident of the Bay Area, Olivia has a Comprehensive Certification in the Pilates method through Balanced Body University at EHS Pilates in San Francisco. Olivia came to Pilates after experiencing debilitating sciatic pain while working on her B.A. in Dance from San Francisco State University. Pilates was so instrumental in her healing, she wanted to dedicate herself to the strengthening, healing and empowering Pilates method and share it with others. In Olivia's work as a Pilates instructor, works with clients to create new, functional movement patterns. Olivia works with all levels including rehab clients, pre and post-natal clients, athletes and seniors. She is a participant of the Foot and Gait Mentorship program with Nancy Myers. In addition to Pilates, Olivia's movement practice includes dance, yoga, and swimming. Olivia challenges her clients while helping them to learn new patterns in functional movement.
Jen
CERTIFIED PILATES INSTRUCTOR
Jen Raby is a fully certified STOTT™ Pilates instructor bringing 20 plus years of experience and success working in the Fitness Industry. Jen began her career as a Fitness Instructor in New York City with certifications from American College of Sports Medicine (ACSM) and NYU. She has taught in top health clubs on the East and West Coast, as well as owning her own fitness training business. Jen discovered Pilates seeking a more effective intelligent workout for herself and her clients, the mindset of sets and reps was just not enough. Pilates was the intelligent, mindful, effective, program that simply made sense. Jen embarked on her journey into Pilates becoming a Level II STOTT™ Pilates Advanced Instructor under the instruction of CC Martin of C2 Body Boston. Jen then opened two Pilates Studios in Newport and Bristol, Rhode Island awarded Best Pilates Studio by Newport Magazine. Jen continues to educate and refine her skills on an ongoing basis taking workshops from top Pilates professionals such as Elizabeth Larkam, PJ O'Clair, Tom McCook, and Holly Ferguson to name a few. In addition to Pilates, Jen is an accomplished Equestrian with competitions in US Dressage Federation Horse shows, an avid Yogi and, recreational runner. When working with clients it's Jen's goal to create healthy movement patterns in a fun, supportive way. Even the smallest movement inside and out can create big change! She is thrilled to be part of the Fitwise team of instructors, and looks forward to working with you.
Kristin
CERTIFIED PILATES INSTRUCTOR | CERTIFIED YOGA INSTRUCTOR
CERTIFIED GYROTONIC® METHOD INSTRUCTOR
CERTIFIED GYROKENISIS® METHOD INSTRUCTOR
Kristin
's lifelong studies of specialized movement systems are intertwined with her passion for modern dance.  Her interests in the Pilates and Gyrotonic methods began in 1990 after completing her BFA in dance from Cornish College of the Arts in Seattle, Washington. In search for approaches to supplement dance training, she discovered both Pilates and the Gyrotonic Expansion System. She found that both of these methods made a difference in overall strength, range of movement, body awareness and movement habits that greatly improved her performance. The two systems that began as personal practice transformed into a fulfilling and evolving career. Early on she taught Pilates at Washington Academy of Performing Arts to young ballet students and also at Gyrotonic Seattle, Seattle's first Gyrotonic studio owned by one of the first Gyrotonic Master Trainers, Magali Messac. In Bellingham, Washington she opened Full Circle Studio, a Pilates and Gyrotonic studio that she owned for 8 years before moving to the Bay Area in 2007.
In the Bay Area she has worked for Western Athletic Clubs under movement and Pilates specialist, Elizabeth Larkam as well as Leah Putnam at Spring Training. In recent years her interests have evolved into investigations of movement and dance in a cultural context. Since 2014 she as been part of the part-time faculty at Sacramento State University teaching the course, Dance Cultures of America.
Her certifications include Gyrotonic Level 1 and Level 2 as well as certifications in the Gyrotonic specialized equipment: the Ladder, the Jumping Stretching Board, the Leg Extension Unit, and the Gyrotoner. She is also certified in Gyrotonic floor work, Gyrokinesis, and has completed workshops in Gyrotonic for Golfers and Gyrotonic for herniated discs. Other training includes an MFA degree in dance from Mills College, certification in Laban and Bartenieff Movement Analysis, certification in Aston Techniques 1 and 2 of the Aston Patterning system, and certification in the Bill Evans modern dance technique.
For Kristin, the movement education continues to be fulfilling and ever-evolving. She brings all of her experiences and understanding to help clients.